Pet accessories are typically extra stuff you get because you think they're cool. However, some accessories for disabled dogs are must-haves. Here are a few of them.
The accessories on this list may be designed for use with dog wheelchairs to make them more comfortable or functional. Others may be used independently for specific tasks designed to help disabled dogs with daily activities.
Toe Grips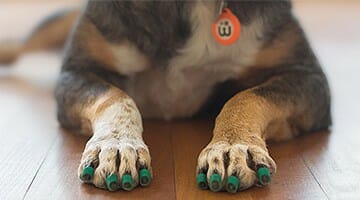 Toe grips keep senior, arthritic, or disabled dogs from slipping on smooth surfaces such as tiles, hardwood floors, or stairs. The non-slip bands slid into dogs' toenails to help them gain traction on slippery surfaces. This accessory is particularly useful for disabled dogs when zipping around indoors in wheelchairs.
The only product on the market today that engages normal canine biomechanics is Dr. Buzby's ToeGrips. They help dogs grip the floor with their toenails, improving mobility and stability, so they feel confident about moving around indoors.
Dog Skates
Dog skates might seem like something you get as part of a Halloween costume for your dog. However, these are necessary accessories for disabled dogs while in their wheelchair. Most dogs adjust well to the stirrups or tie-backs holding up their weak legs, but some don't take to it at all.
The solution is to put these puppies on the rear legs of your disabled dog. Dog skates help keep the legs in a natural standing position while gliding along in their wheelchairs. They also prevent the legs from scraping and stimulate the leg nerves from vibration.
Dog skates  are great used in tandem with dog wheelchairs. Suppose your dog is still mobile but has weakness in the rear legs. In that case, you can use them when taking your dog for a walk.
Shoes
Dogs with rear leg weakness tend to curl their toes under their paws when they lose the ability to feel them. They often don't realize that their feet are knuckling under, resulting in injury.
Dog shoes
help keep your disabled dog's paws from knuckling or slipping.
You can put them on when going outdoors to keep your dog's legs stable. They can also protect your dog's paws from grass or other rough surfaces if their paws are dry or sensitive, or from extreme surface temperatures such as hot pavements in summer and icy ones in winter. Knuckling prevention helps your dog walk without assistance for a longer time.
Putting them on can be challenging for you and your pet at the start, but you will get used to it. However, make a point of removing the dog shoes when not needed to let the paws breathe.
Lifting Harness
Lifting harnesses, also known as support slings, are a godsend when your dogs are disabled. You can enable disabled dogs to get up on their feet and walk with stability without hurting you or them. Most lifting harnesses wrap around the dog's body and have handles on two ends of the harness.
The UpDog lifting harness can also help you put your dog in and out of a vehicle or wheelchair. However, it will not give your dog the full support it needs if it has no power in the rear legs. It would help if you had a wheelchair for that.
Takeaway
Disabled dogs have special needs, and these accessories address them admirably. Whether your dog has some mobility or none, use them to provide your furry friend with better quality of life.